Which model is it?
If you have a Casio watch it's very easy to find out which model it is: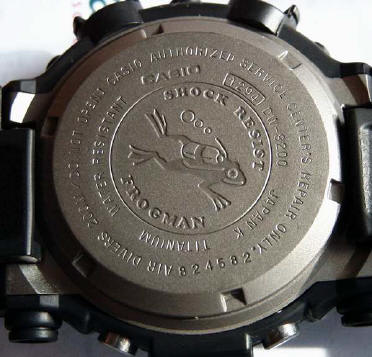 G-Shocks have a model number and a module number. Here you have for example the back of a frogman. You see the four ciphers 1294 in the rectangle. This is the module number. Every module has it's own manual, which is available on line here. The model number is DW-8200. The letters DW stands probably for Digital Watch, because the analog models have the letters AW. If you are not sure if it is a regular model or a limited edition model, you have several options.
Some sellers display the complete model number, something like DW-8200-1A. If you search with www.google.com you will see that you'll find the same model as I have displayed in my Frogman page. If you don't have the complete number, you can also try to find it with DW-8200. I did find the model number of mine on the same way. Don't let yourself be distracted by Japanese text. The Japanese people love photo's, so you will find lot's of different versions of a certain model, with the matching model numbers.
Special editions often have special names. For example this is a normal Frogman, but a special edition is the GW-203K-4JR. If you find this one, you'll see this is the red "Power of Lovesong" version of the I.C.E.R.C. Frogman 2003.
If you don't have the watch, but you already want the manual:
I got a message from "Lithium Ion" from the U.S. He imported a ProTrek Waveceptor PRW-100, which is recently released in Japan only. He wanted to have the manual before he had the watch, so this is what he did:
First he find out that the latest modules were numbered around 2600-2700.
The Casio module manual PDF files are named "qwxxxx.pdf" where as xxxx are the module number digits. He used an automated download tool called GetRight (http://www.getright.com/). From GetRight, choose the "File" menu, then choose "Add Number Sequence of URLs...", and then enter http://www.casio.co.jp/ww/pdf/qw#%.pdf for the URL (%#% is for the sequence number in the URL), and then start the number from 2500 to 2800 with 4 digits.
Using this feature, He was able to automate the download of hundreds of PDF files. Most of the downloaded PDF files were invalid because the module number was not valid. They can be easily spotted because the files size for these invalid files are around 17K only. Deleting the invalid files and that left him with only 138(!) real Japanese PDF files (between number 2500 and 2800). Starting from one end, he found qw2629.pdf is the module number for PRW-100 fairly quickly. The same can be done for English module manual PDF files with the URL http://www.casio.co.jp/ww-e/pdf/qw#%.pdf.
Though it seems that this is a cumbersome manner, but it works. Many thanks for your contribution "Lithium Ion"!